CONTACT US ABOUT WORKING WITH US ON THIS MEDICAL MISSION.

RECONSTRUTIVE MAXILOFACIAL SURGERY
A 16 year old girl from the Altiplano of La Paz has successfully completed 2 of 6 or more planned surgeries in the Columbia Presbyterian Hospital, Oklahoma City, under the direction of Mr. Robert Markowitz. .
Upon her arrival to Oklahoma in november, 1996 she had a frozen right jaw( for the past 13 years), no left jaw bone (upper or lower), no left cheek bone and no left nose cartilage. She also had a hole in her palate among other facial distortions due to an accident when she was a small child. Her right jaw was opened and rebuilt. A left cheek bone was constructed. This operation lasted 15 hours.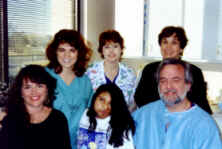 May, 1997, her left upper and lower jaw bone was constructed, the left bone cheek was built up by Dr. Markowitz and extensive plastic surgery on her face was completed by Dr. Robert Hiene. Many other doctors and nurses also have and will be operating on this young lady. All surgical and medical costs for this young lady's transformation are being donated by the participating doctors, hospital, etc.


EXAMINATION ON CHILD WITH A TUMOR

The six year old with tumors and her mother were flown from La Paz to Children's Memorial Hospital in Oklahoma City, Oklahoma under the direction of Dr. Paul Francel. After exhausting tests she was diagnosed with untreatable neurofibroma tumors. We were all extremely disappointed that we could not help this child.

PROSTHETIC COOP SPECIAL MISSION PROJECT
We are bringing Limbs For Life and Nova Care /Sabolich of Oklahoma City, Oklahoma to work with an amputee coop in La Paz, "Louis Antonio LTDA," to serve the very poor in Bolivia in need of prosthetic
care. These people presently have no chance to receive any help.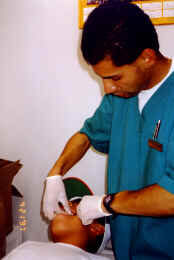 September 22, 1997 we brought a US$ 15,000. donation of numerous prosthetic devices to them. We made a a commitment to this amputee coop to return for a week in February 1998, with 8 technicians from Nova Care/Sabolich and Limbs For Life to work with the coop. At that time we anticipate fitting 5 to 10 amputee patients per day with prosthetics.
This Prosthetic Special Mission is planned to be a "Once a Year" commitment with two shipments of a 100 plus prosthetic devices to be used by the coop during the year. These prosthesis are for the needy of all
Bolivia on a first come - first serve basis.


SPECIAL PROJECTS


-Reconstructive Maxilofacial Surgery for a 16 year old girl
-Extensive Medical examination on a 6 years old girl with tumors
- Prosthetic devices and technology for an amputee co-op

HELP US TO HELP PEOPLE IN DIRE NEED IN BOLIVIA
Needed:
1. Medicines, medical supplies, incubators and used medical equipment.
2. Medical volunteers of all disciplines willing to go to Bolivia on our medical mission and works for a week.
3. Financial contributions.
4. Assistance for special projects such as our Prosthetic Mission.